Anita24
New member
Username: Anita24

Post Number: 1
Registered: 03-2008

| | |
| --- | --- |
| Posted on Friday, March 21, 2008 - 08:59 pm: | |
---
Cheryl Tweedy from Girls Aloud was convicted of assault in 2003. Her sentence was a fine and community service. I think she should have been put over a womans knee and spanked red raw. Do any women share this opinion?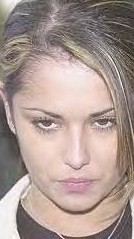 Bethie
Moderator/Spanking Aficionado
Username: Bethie

Post Number: 1813
Registered: 04-2005



| | |
| --- | --- |
| Posted on Tuesday, March 25, 2008 - 03:39 am: | |
---
Anita, remember we only discuss consensual spankings here on the Den. Criminal punishments do not fall into that category and I don't want to get that sort of discussion started here. Sorry.