Alex_b
Spanko
Username: Alex_b

Post Number: 56
Registered: 04-2005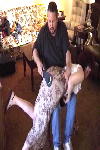 | | |
| --- | --- |
| Posted on Saturday, April 17, 2010 - 07:14 pm: | |
---
Hey Cutie,

I was installing a new shower head in the
front bathroom the other day when I had a
rather interesting daydream. In it, I saw us
as a couple who'd recently moved in together.
I worked and you attended classes at a
local college.

I came home early one day to find you
weren't at school as scheduled. Our place
was a mess and it was obvious you'd
been sitting around snacking and
watching television. I found you in
the bathroom, casually taking a shower.
I slid open the door, shut off the water
and hauled you by the wrist into the living
room as I scolded you for playing hooky.
Then, with a powerful smack to each of
your wet unprotected buns, I put you to
task cleaning the apartment. I followed
you closely, delivering stinging smacks
to speed you on as you hopped about,
picking up plates and cups. All the while
you protested that the neighbors might hear.
These complaints stopped after I threatened
to take you out front and tan your fanny
so they could witness you getting punished
as well.

After your hurried efforts had passed my
inspection, I had you fetch a towel and
bring it to me so I could dry you off.
You did as you were told and I rubbed you
down swiftly and thoroughly, making sure
to go after every drop of water on your
shivering body. Once you were reasonably
dry, I marched you into our bedroom and
instructed you to deposit the damp towel
inside the hamper, then bend over it.
Knowing you were in for a sound bare-ass
spanking, you promised to never skip class
again, throwing in an offer of an immediate
blowjob to sweeten the deal. I accepted
and a moment later your knees hit the
carpet as you fumbled with my belt buckle
and zipper. Soon, you had my pants and
boxers down to my knees and my hardened
dick between your eager lips. You valiantly
attempted to bring me off, but just as you
thought you had me on the brink of climax,
I uttered a familiar phrase.

"Of course, you're still going to get
a spanking."

Your eyes widened in surprise as I withdrew
my member from your mouth. A quick tug to a
handful of damp hair drew you to your feet.
Then over that hamper you went, bottom in
the breeze. The first painful swat landed
followed by three dozen more, each leaving
you squinting and squealing. I continued
smacking your blazing cheeks harder and
harder until you began to think the ordeal
would never end. But suddenly, I grabbed you
by the hips, repositioned you slightly then
slapped your burning buns with my cock
several times before sliding into your
sweet wetness from behind.You grasped the
hamper firmly for balance, rocking forward
and back as I thrust into you with
increasing speed. Your head grazed the wall,
even bumping against it a few times, but you
didn't care. It's was clearly the sweetest,
most out of control fuck we'd ever had
and we were both just letting loose and
enjoying the ride. Eventually, the hamper
position became impractical, so I tossed
you onto the bed, flopping onto my back next
to you. Not wanting to stop, you climbed up
onto me, impaled yourself on my stiffened
pole and began bucking like a cowgirl.
You rode me until you were completely spent
before collapsing, sweaty and breathless,
into my waiting arms.

As we drifted off into an afternoon nap,
you vowed not to ditch school again.
With a content smile, I promised to paddle
your backside raw if you should happen
to forget.

Bottoms up, Little Miss Truant!

Love,
Alex B.
---
"I'll love you 'til you can't sit down."








Sniffles55
New member
Username: Sniffles55

Post Number: 1
Registered: 02-2012

| | |
| --- | --- |
| Posted on Thursday, February 02, 2012 - 08:12 pm: | |
---
Alex, I really enjoyed this story. I look forward to reading more from you.

Thanks.