Alex_b
Spanko
Username: Alex_b

Post Number: 50
Registered: 04-2005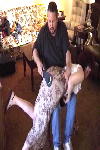 | | |
| --- | --- |
| Posted on Monday, May 26, 2008 - 05:19 pm: | |
---
UPENDED
by Alex B.

With a slight shudder
of dreadful delight
she pushes his last button,
setting those familiar wheels in motion.
He responds,
unbuttoning and rolling up his sleeve,
just the one.

Feigning naive astonishment,
she rises onto the balls of her feet
as her ear is taken firmly
between thumb and index finger.

Little Miss Trouble is hurriedly lead,
on tiptoe,
to a chair where he plops down.
A quick tug
and she's airborne
landing upended
across his dominant knee.

There is no time to gasp
at the sudden breeze
splashing her legs with goosebumpy splendor
as the hem of her skirt is flipped
without ceremony
to her lower back and, as if in the same motion,
the provocateur's undies
get yanked to mid thigh.

Her lover's hand,
expertly angled,
dispenses a salvo of smarting spanks
to those pale globes of bared bottom flesh,
their eggshell hue
turning watermelon pink
from the smackage galore which follows.
The naughty imp's buttocks ache and sizzle.
Her face burns as well,
with embarrassment,
as she twists and kicks.
Grimacing bitterly,
she grips the chair legs
hisses, then squeals
and at last howls
as Mr. Means Business
lays down the law
swiftly
and soundly.

One well-earned walloping
and sixty tears later,
a humbled vixen shifts from foot to foot,
her nose tucked into a corner with hands on head,
warned not to rub.
She mock pouts,
hyperventilates slightly
and savors the feverish glowing throb.
---
"I'll love you 'til you can't sit down."








Lil_bit
Spanko
Username: Lil_bit

Post Number: 75
Registered: 05-2007



| | |
| --- | --- |
| Posted on Monday, May 26, 2008 - 06:57 pm: | |
---
Excellent
---
Life is not about the amount of breaths you take, its about the moments that take your breath away.